AgReFed recognises the diversity of agricultural data for research and the varied needs of providers and users. For this reason AgReFed is unique in its socio-technical approach. Below is a summary of this approach from the AgReFed Guidelines .
Data Providers are voluntary, active participants in a federated community.
The federated community operates under cooperative principles. This gives Data Provider Communities a real choice and voice in making agricultural data in Australia more discoverable and usable.
Participation is open to all generators and providers of agricultural research data. See our participation model.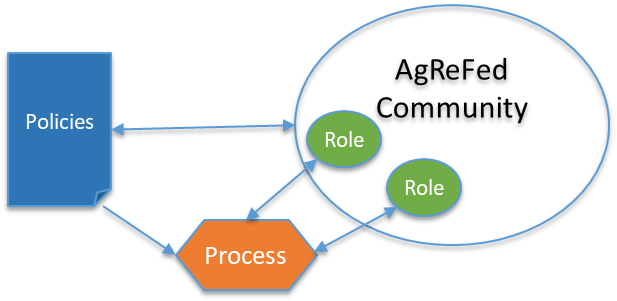 AgReFed brings independent organisations together to make strategic and technical decisions about agricultural data sharing (Box et al. 2019)
AgReFed is a distributed data community.
Data is stored and made accessible through the AgReFed platform by individual Data Provider Communities in ways that work for them and comply with any data access and use restrictions. AgReFed does not hold or control access to the data.
Data Provider Communities align their technical solutions through jointly developed AgReFed policies and processes to help achieve the vision of FAIR agricultural data. The key guiding principles of AgReFed are:
The FAIR Data principles (Findable, Accessible, Interoperable, Reusable) support data discovery and integration both by humans and machines and promote sharing and reuse of data. These are the core key principles that guide the information, computational and technology choices of AgReFed.
Likewise, CoreTrustSeal have developed a set of requirements for repository trustworthiness. AgReFed has adopted critical components of this.
Guided by AgReFed FAIR and Trust guidelines, we strive to use open-source data exchange standards, metadata standards and controlled vocabularies. This aides the seamless integration of datasets and facilitates data sharing and reuse.
Read the use cases of AgReFed partners using technical solutions to deliver FAIR data through the AgReFed platform.
Explore the AgReFed platform.